Customer Stories
Share your story, get a $10 gift card
Inspiring. Funny. Adorable. Heart wrenching. Life-affirming. Small joys & giant challenges.
Every piece of personalized jewelry has a meaningful story behind it.
Do you have a story behind your Heart On Your Wrist jewelry that you'd like to share? Was it for a special someone? About a special person? Maybe a special occasion or place? We'd love to hear it.
For a limited time, share your story and photo with us and receive a FREE $10 gift card towards a future purchase.
Read others' stories:
I am a single mother with three young children(ages 5,6,&9) I am in nursing school, working, and a fulltime mom. I work very hard to provide a successful future for my children. My life can be stressful and overwhelming but I know in the end it will all be worth the hard work. I created this necklace for myself to remind myself everyday that I am doing this for my kids. When I study, pray, sleep,etc. My necklace is a part of me. (This necklace is our Family Tags Necklace)
I ordered this is honor of my Mother and Daddy. I lost my Dad in 2009 and my Mom in 2014. I don't know if losing my Mom was harder because it was my Mom or the fact that they were both gone. I had a birthday card my Mom and Daddy had given me to have this made. I absolutely Love it. - Joyce (This is our Handwriting ID Bracelet)
I just wanted to thank you so much for the charm. It is just fabulous. It will be going on a set of pearls that my mother left me when she
died. The writing on the charm is that of my mothers. She died almost two years ago. The gift is going to be for my daughters on
their college graduation.
Thank you, Donna (this is our Handwriting Disc in 7/8")
My grandmother's closing in letters written to my dad during WWII. They had three sons serving at the same time. The bracelet is beautiful and will be treasured! It reads, " And may God bless and guide and protect you at all times" on the outside and "Mother" on the inside. -Kathy (this is our Handwriting ID Bracelet)
Baby Virginia with her Grandma's handwriting on our Dainty Custom Handwriting Tag.
A sweet gift for Nana with Shelby's handwritten note on our Custom Heart Handwriting Necklace.
I had my mommy necklace made around 8 years ago. Since that time I have had so many compliments and I have referred many friends. I have purchased gift cards for friends to create their own jewelry. Love that option! - Sharon G. wears our 3/8" Thai Name Discs
Making music is a great love of my husband's and his younger brother's. My brother-in-law recently and unexpectedly passed away at a young age. This loss has been very difficult for my husband. I had this guitar pick engraved with part of his brother's message and signature he had put in our wedding book. It turned out amazing and will be a cherished and precious memento. It is so wonderful to be able to have a keepsake like this. Thank you so very much. Renee A. (our Handwriting Guitar Pick)
My kids, Victoria, 22, Jared, 17 and Bailey, 11, bought me the angel wing bracelet for christmas. Their father, my husband, past away in 2006 suddenly of a disease called Amyloidosis that we had no idea he had. They took a note that their father had wrote me in our high school years, and sent it in to heart on your wrist to be made onto the bracelet. I was shocked by it and so happy that my kids put their money together to get it for me. I now wear it every single day and know that my husband is with me. It says, "Always remember I love you. Love, Tommy." My favorite thing about the bracelet is getting to see my husbands signature even though he is no longer here. Gina M. (Angel Wing Handwriting Bracelet)
A very dear friend who has served in the military has told me some scary stories of incidents that he encountered and the thought that he came up with to deal with the fear and uncertainties during those difficult times is "Fall to the Good" ... meaning, there is always something to be thankful for. I've had this phrase engraved on a personalized Key Ring for him for his birthday. This is the second piece of unique personalized jewelry that I've asked Beth and her team to create for me. They do a fantastic job and will go above and beyond to make sure you are completely satisfied with the item you've entrusted them to make. Linda (Large Disc Key Ring)
10 years ago this month my dad passed away after a short battle with lung cancer. When by dad was getting sick, one of the side effects of the disease was that he was losing his memory. He was forgetting people, places...things he was being told ect. He would often forget he was sick...he would ask one of us what was wrong with him & we would tell him. "Dad you have lung cancer"...."Am I going to die?" ......"Yes dad you are." He would squeeze your hand and say "I'm going to miss you so much." Sometimes that conversation would go on several times a day...it was the most heartbreaking thing in the world. Something I never want to experience again. I would just tell him...I'm going to miss you to Dad.. When our dad died, we didn't get any thing of our dads from his wife..which is fine. It wouldn't have brought him back. I have all I need in pictures, card, & in my memories. I'm finally at a place where I can give my sisters something that they can have a part of my dad forever. When I found your website I thought what better then his handwriting....and so they know that he really does miss them!❤ - Shannon V
My mom now has dementia. When I was little a friend of hers always called me Rosebud. I found a card that mom had sent me for my birthday and she wrote a little note calling me Rosebud. I am so glad that I had saved that card. My sister had the Square Handwriting Charm made for her a month ago and I absolutely loved it.It was beautiful so I had to have one too. Janet M (Love Letter Necklace)
My grandpa passed away in October of 2010. I wanted to find the perfect piece of jewelry to keep his life a memory. I found your silver chain with a circle pendant that I had engraved with his signature on one side and our birthdate on the other side. We share the same birthday, just 60 years apart. I've worn the necklace for over 2 years now (every day) and it is the most cherished thing I own. The entire process was very easy and it made getting this very important piece of jewelry easy even though the memories are still hard to think about! Sarah F.
I bought the bracelet for my granddaughter. My son was killed in an automobile accident and he had written on her dry erase board in her bedroom "I love (a heart shape) you, Dad". I took a picture of his message and had it put on a bracelet for her. A treasured message she will have forever. It turned out beautiful and exactly in his handwriting. I am planning on having more done for my other granddaughters with a message from me. Toni J.
My husband passed away last year from cancer. He was 35. I had this necklace made for myself as sort of an anniversary gift around the time we would have celebrated our 12th wedding anniversary. I hope, as I sort through things, that I find something where my husband wrote down our boys' names and I plan to make each of them dog tags. They are too little now but as they grow I think it would be really special for them to have something with their daddy's handwriting. Jillian P. (Sculpted Rectangle Handwriying Necklace)
My Dad passed away in July and I had 2 of these made for my sons. They came out great! I ordered from this site in the past and will definitely be ordering again! Beth was so helpful and easy to work with. Thank you so much for this beautiful memory of my sons' Grandpa. Laura R. (Handwriting Round Tag Key Ring)
We purchased this piece of jewelry as a graduation gift for our younger daughter. Her maternal grandpa passed away in August 2015. Her maternal grandma passed away in January 2017. We wanted something special that she could wear to have a piece of her grandparents with her on her special day, since it will be hard not having them physically present. The writing came from a birthday card signed by grandma. - Tricia L. (Oval Handwriting Bracelet)
- A happy customer (Sculpted Rectangle Necklace)
My dad passed away suddenly on Jan., 16th 2017. He was only 64. I am very blessed that I got to have my dad for 41 years. And beyond blessed that I have never in my whole life had to question if he loved me or not. He told me, my sister, our children, and our husbands every chance he got how much he loved us & was proud of us. We always laughed because he called each of us "his favorite...something". So, me being the oldest...I was his "Favorite Oldest Daughter". My sister was his "Favorite Youngest Daughter", and etc. My dad's handwriting has always been pretty unique, and handwriting that I admired...I always loved how neat it was...especially for a guy :) On my 40th birthday he signed a picture mat that my mom and sister put together. It said, "I can't believe that my favorite oldest daughter is 40 years old!!! I'll try to be around for the next 40!!! I love you!!! Dad". My birthday is on New Years Day. So, he lived just one more year...just past my 41st birthday. But, now I have a little piece of him that I can wear close to my heart every day as a reminder that I was his "Favorite Oldest Daughter". I am very happy with how the necklace turned out!!! - Tracey C. (Silver Bar Handwriting Necklace)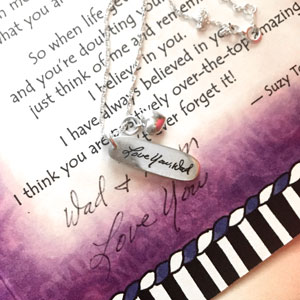 My father passed away and had sent me a loving card just before doing so. So I have wanted something like this to be made with his writing. My daughter was extremely impressed with how quickly the order was processed and received, and of course the quality is amazing!! - Sheri R. (Handwriting Mom Tag Necklace)