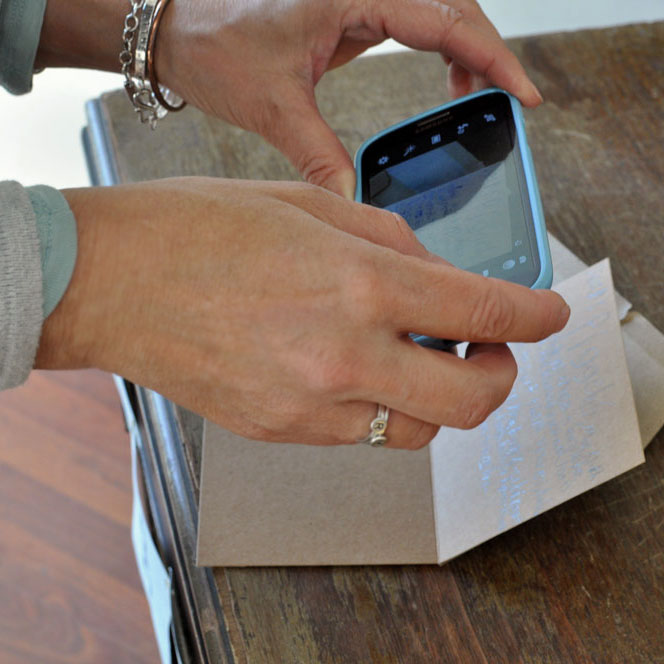 Taking a photo of your handwriting is simple if you have a cell phone or a digital camera.
1. Lay your handwriting on a flat surface.
2. Position your camera directly above the handwriting so you aren't taking the photo at an angle.
3. Get as close up as you can to the words you want on your jewelry, without the image becoming blurry. Also make sure you don't cut off any parts of the words that you want included on your jewelry.
4. There is a button to upload your photo when you order, or you can email it to us separately after you order (include your order number for reference if you can). An easy option is to simply reply to your email receipt with your image attached.
We wiill contact you if there are any problems with your image or if we have questions. It's that simple!
Note: if you don't have access to a camera, you can also use a scanner and send that image to us. You can send a paper copy of your handwriting via snail mail if that is easiest for you. Please contact us with any questions! We are happy to help!
FAQ's:
1. Why are there two buttons to upload photos - do you need two photos? A - no we only need one photo from you. But if part of your handwriting is in one photo and the other part is in another photo, we give the option of uploading up to two photos. If you have more than two photos, you can email them all to us or just email the ones you weren't able to upload when you ordered.
2. Can you use an image with a colored background? A - yes we can. We can use anything on a colored background, since we end up removing the background as a first step.
3. Can I text my photo to you? A - yes you can, please let us know if you need to do this and I will give you the number to text it to.
4. Do you provide a mockup of how my handwriting will look on my charm? A - we can provide you a mockup upon special request. This will delay your order by 1-2 days since we need to create the mockup, email it to you and then wait to hear back from you on it. If you want to see a mockup, please mention this in the special instructions field of your order and watch for an email from us!
5. Can the handwriting be different on the front and back of the charm? A - yes definitely! If you pay the extra $29 to have handwriting added to the back of your charm, you can choose what to put there.
6. What does the option 'stamping on back' mean? A - this means we can add a short message, date or words to the back of your charm using our stamped block font. If you want handwriting on the back of your charm, choose the option for handwriting on the back.