Jewelry is a very personal thing; it expresses your personality, your style, your interests and what you love. It can remind us of family, friends, and fond memories from our past as well as give us hope for the future.
Are you looking for a truly unique way to honor the memory of a loved one? If you are looking for a personalized, meaningful way to keep the memory of a loved one close to your heart always, creating a piece of hand stamped jewelry or etched handwriting jewelry art is an excellent way to go. It's like taking a little piece of your loved one with you everywhere you go.
Jewelry is personal and can be very meaningful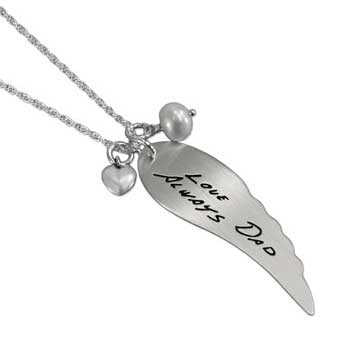 If you have a friend, family member, or loved one who has recently passed on, you can still keep them close to you every day with a piece of etched or hand stamped jewelry. Did your friend have a certain saying or trademark doodle that they would include in notes, cards, and other communications? Perhaps they always signed their letters and cards in a uniquely unmistakable way? You can take any symbol or scrap of writing that reminds you of your loved one and make it last forever by having it hand etched or hand stamped on a piece of jewelry.


How does it work?
Our simple, effective ordering process makes it super-easy to take a piece of writing and transform it into a beautiful memorial piece. All you need is an old birthday card, Christmas card, letter, anything that you want to use as a writing sample. Indicate which bit of writing you'd like to have etched on the jewelry— for example, "Love, Mom," "Love you always, Love Grandma," or "Love you Pumpkin - Dad,"—and our artists will take care of it from there. Put the favorite saying or catch phrase of a loved one on a sterling silver angel wing charm. Celebrate the memory of your favorite family pet by having its paw prints etched onto a silver disc charm and stringing it together with a personalized doggie bone and stone charms for an extra special necklace. When sending us your writing sample to be used, try to find one that was written in dark ink (the thicker the better) for best results. If you're having a hard time finding a writing sample or image that is clear, don't worry - we can work with lower quality images if that's all you have.
Wearable memories
Hand stamped memorial pieces don't just have to commemorate the loss of a loved one, they can be used to celebrate special dates, too. Remember special events like anniversaries, graduations, special achievements, family reunions, births, etc., with a custom piece of hand stamped jewelry.

Each piece of hand stamped or hand etched jewelry is created by the artists in our Northern California studio, not mass-produced, and comes with a silver-polishing pad to keep it looking brand new for years and years to come. We know you'll be happy with your piece of hand stamped memorial jewelry and can't wait to help you turn your memories into wearable art.
By Beth Philbin