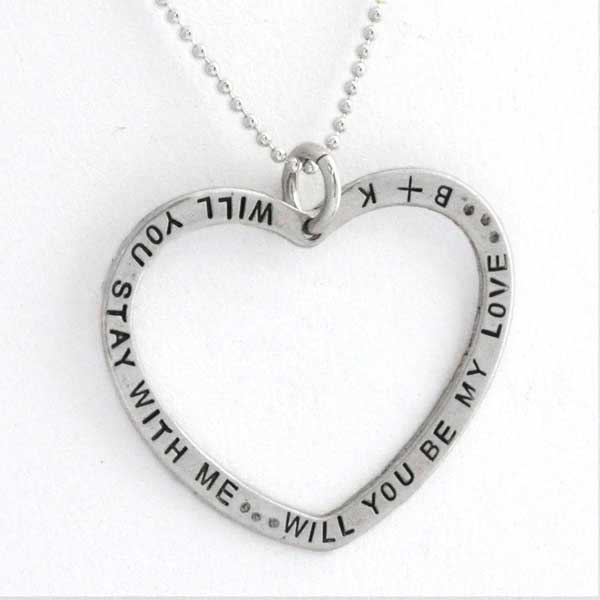 Despite what we may see on TV, true romance, romantic gestures, and the best proposals don't usually include buying your wife-to-be a $20,000,000 private island, renting the Eiffel Tower for a night, or penning a proposal on casino playing cards. The best, most powerful expressions of love are honest and come from the heart. And when it comes to making beautiful romantic gestures, it's all in the delivery.
With a romantic, personalized piece of handwriting jewelry or hand stamped jewelry you'll be sure to make the right kind of lasting impression when you propose to your girlfriend or wish your wife or husband a happy anniversary. Tell your loved one "happy anniversary," and "I love you" every day with a piece of hand stamped jewelry from our Love Collection. Our stackable "Heart of Gold" ring with its delicate, 14 karat gold heart has just enough room to hand stamp two sets of initials and a date on the inside of the band. Say happy anniversary in a one-of-a kind way with the tiny message in a bottle necklace or delicate sterling silver envelope that contains a custom love note or message of your choice.
Pop the question
Pop the question to your girlfriend in an extra special way by having it etched onto the back of the Infinity Circle of Love necklace or take a more playful approach by hand stamping your message on our chunky sterling silver wide-band rings or writing the message on a paper scroll and presenting it inside a silver fortune cookie. Or, write the question by hand and have it etched onto our custom handwriting bracelet. A personalized, handmade piece of jewelry, hand stamped with a special question or memorable date adds the perfect touch to any heartfelt proposal.
Handwriting Jewelry
Crafting a piece of custom handwriting jewelry or hand stamped jewelry is easier than you think. All you need to do is write down your message, proposal, or love note in thick, black ink on white paper (the darker the ink, the better the results). Next upload the writing and/or image to be used. Now just sit back, relax, and let our artists take it from here. We will lovingly handcraft your piece of one-of-a-kind jewelry and get it to you quickly with our fast & free shipping. Each piece of jewelry comes with a silver-polishing pad so it can stay tarnish-free and looking brand new for many, many years. We also include a free, optional greeting card with every jewelry order.
Make celebrations special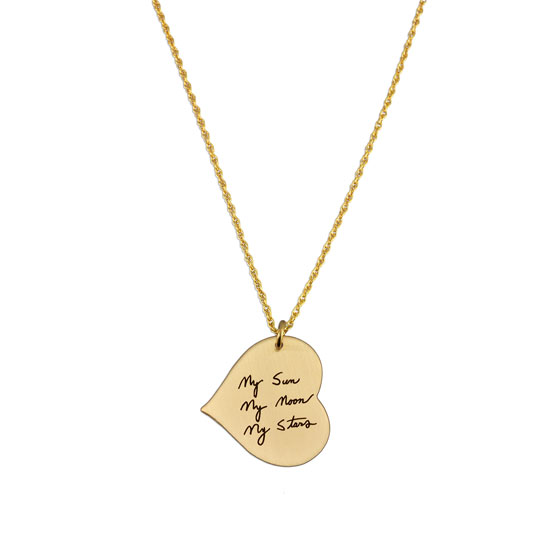 So the next time you want to celebrate your anniversary in a unique way, or you want to propose to your sweetheart, look no farther than designing and creating your own piece of hand stamped or handwriting jewelry. We can't wait to help you start creating new memories!
By Beth Philbin