Posted by Beth on Mar 20, 2023
Lots of customers ask us to put one of their kiddo's drawings on a piece of jewelry. These drawings are some of their most meaningful artwork, and they want to keep them close forever.
For some customers, their most meaningful artwork is already with them, and they want to have it on a piece of jewelry, too.
I'm talking, of course, about tattoos!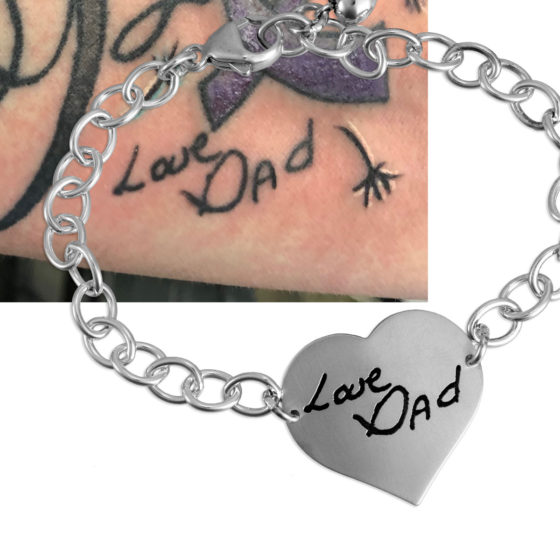 These are really fun to work on, because they're so important to a customer, but also because they usually require a high level of care & skill.
Tattoos are often on a curved body part (e.g., an arm), so we've developed a few tricks to remove the distortion that can show up in an image. The result is a piece of handwriting or artwork jewelry that not only captures the beauty and meaning of the tattoo, but also looks great.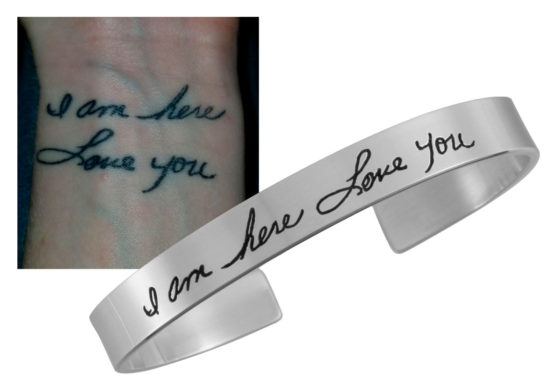 We've crafted a lot of handwriting jewelry based on people's tattoos over the years.

If you have a tattoo that you want to put on a bracelet, necklace or other piece, let us know. We can point you to the right piece of jewelry to put it on. For example, a great option for longer amounts of text is a Handwriting Love Letter Necklace, like you can see at the top of this post.
If you've got a tattoo that you want to keep forever on a piece of personalized jewelry, get in touch! We'd love to make it for you.