Posted by Beth on Mar 25, 2015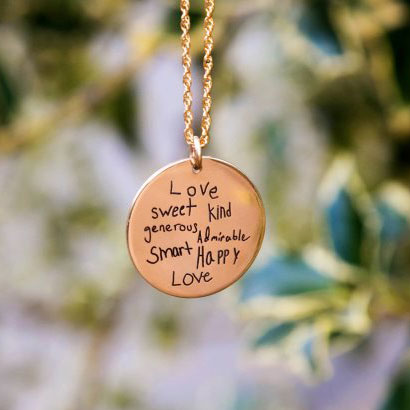 Handwriting jewelry is a really fun and personal way to create a unique piece of jewelry for you or a loved one. It's one of my favorite things to make here in our studio. Each creation has a story behind it, and I love hearing customer stories about why they are shopping for handwriting jewelry.
Sometimes they are looking for a way to commemorate a loved one's signature or note from a card. Sometimes people have love letters written to them years ago that they want etched into something permanent that they can wear and possibly pass down. And sometimes people just want to take a favorite drawing or note from their children to keep with them and wear as a reminder of a sweet time in their lives.
Whatever the reason, we love making these. And we get a lot of questions on how we do it, how people should choose their piece and how to get us the handwriting image. It's a lot simpler than you might think, and we will take what you give us and transform it into a beautiful and unique keepsake that you will cherish for years and years.

The basic steps are to choose a handwriting charm from our site that you love and would like to see your handwriting sample on. Then you simply take a close-up photo of your handwriting and either upload it when you order, or email it to us separately. We will take it from there and create your personal, one-of-a-kind piece.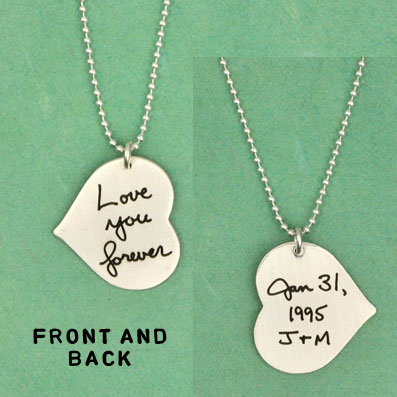 For lots of information, tips and samples of other handwriting jewelry we have created, see our Handwriting Jewelry - How It Works section of our website! And as always, if you have questions, please contact us.