Posted by Beth on Apr 02, 2014
We've been prepping our storefront for a while now, and it's pretty much ready to start selling our hand stamped jewelry and other personalized treasures.  Well, it will never be ready, still so much to do!  But at some point we have to just go for it.   Customers have been coming in and giving us great feedback so far.  It's helpful to hear what people think and how happy they are that we are here!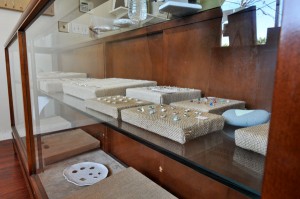 I think I mentioned this before but I'm so excited about the cabinets I found on Craig's List.  It's as if they were made for our shop.  They fit in our space perfectly.  They are vintage jewelry displays, once owned by a jeweler who retired and decided to let go of them.  I hope he's enjoying his retirement while I'm enjoying the cabinets!  They even have working lights, such a bonus.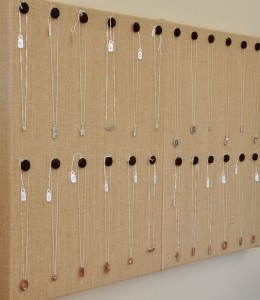 I will be doing another blog post on my hand stamped jewelry displays.  I've had a fantastic time scouring the DIY blogs and Pins to find ideas on how to display everything.  I love DIY and re-purposing anyway, so I have had a great time painting, nailing, hanging, hot gluing to my heart's content.  Have glue gun will travel!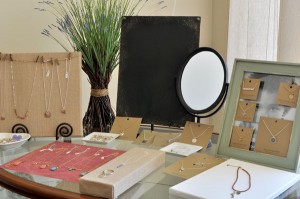 We have the shop divided into themes - hand stamped jewelry and personalized jewelry, handwriting jewelry and a build-your-own necklace station.  We call the build your own station "Mary's Corner" after my friend Mary who often comes in to design her own necklaces she gives as gifts.  It's fun to see what people come up with!If you have any ideas for us or know of good jewelry display ideas, please let me know!  We'd love your feedback.  Come visit us soon!