Posted by Beth on Aug 22, 2014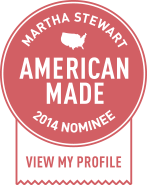 Each year Martha Stewart holds a competition for $10,000 ( and various other perks) for businesses who make their products in the U.S. and who encourage and work with other small companies in the U.S. They look for beautiful, inspiring and useful products. There are four key categories - crafts, design, food and our category, style!
We are proud to be a 2014 style nominee and can't wait until voting begins on September 15! Please vote for us!