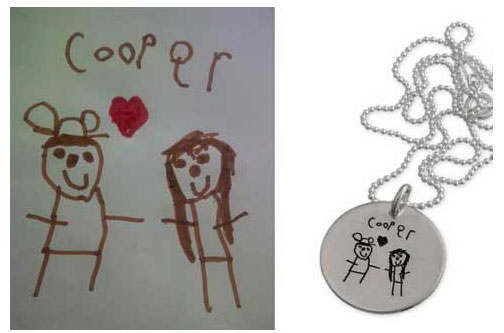 Using kid's artwork is a fun option to create a meaningful piece of jewelry. This is a reallly popular Mother's Day gift for moms and grandmas.
To use an existing note or piece of artwork, keep in mind that any lines your artist has drawn, no matter the color, will turn out black on your charm. Any filled areas, no matter the color, will also turn out black. We will remove any marks or lines that shouldn't be there, for example, lines from lined paper will be removed by us.
Some drawings just won't fit nicely on some charms, so if we feel your design would work better on a different charm we will work with you to ensure you get the perfect result.
To draw something new just for your jewelry, please use a pen on white paper (see more on this here).
Note: The process for putting handwriting, artwork, footprints and handprints onto metal is the same - so you can include words, prints and drawings on the same charm.
Once you have your artwork/handwriting, you'll just need to take a photo of it and send it to us. Our artists will do the rest!
See some great examples of how artwork can look on various charms.